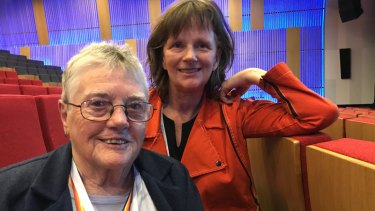 The 84-year-old gay Adelaide woman began to speak to the National Elder Abuse Conference in Brisbane in clear and simple language.
"My name is Malloy and I'm going to share a story about what it was like to grow up as a lesbian in the 1950s," Hazel 'Malloy' Rolfe said.
"Then I'm going to tell you about a recent experience of elder abuse at an aged care service provider.  Sadly, the two stories are connected."
She moved to Australia from Middlesex in the UK as a teenager in 1948.
Ms Rolfe was sexually assaulted by her now deceased father, then her mother died nine years after arriving in Adelaide.
Ms Rolfe was later treated in Adelaide with LSD and electro-shock therapy for her sexuality.
She said growing up as a lesbian in Australia in the 1950s was "simply awful".
"I was told that if I went back to feeling like a lesbian, God wouldn't love me," Ms Rolfe told delegates.
More recently, she was refused permission by a major aged-care provider to speak to women at aged-care facilities in South Australia because she was lesbian.
Continue reading: https://www.brisbanetimes.com.au/
business/consumer-affairs/older-australians-abused-over-sexuality-and-money-conference-hears-20190722-p529ms.html?ref=rss&utm_medium=rss&utm_source=rss_feed (source)